Our animal hospital provides medical boarding services for clients who are away or who need help with medicating their pet.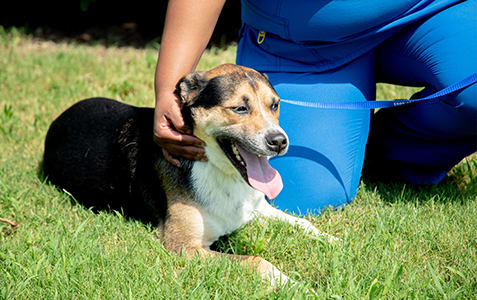 What is medical boarding?
Medical boarding is when your pet stays with us at the hospital for a period of time while you are away, so that we can administer medication or monitor your pet's health issues.
Because we are both a veterinary hospital and boarding facility, we are uniquely qualified to offer boarding for pets with medical needs.
If your pet is unwell, it can be a comfort to know that they're in professional hands when you're away. We offer vet-supervised medical boarding services to help put your mind at ease.
How should I prepare for my pet's stay?
Each animal is different. To prepare for your pet stays with us, we'll take the following steps to ensure that we can meet their unique needs.
Step 1
Contact Us to Get Started
Call us to book, or fill out the boarding form with details about your pets and your boarding needs. A member of our team will be in touch to ensure your pet is eligible for boarding, and to coordinate your booking.
Please note that pets must be up to date with all vaccinations and free of fleas and ticks to stay at our facility.
Step 2
If Possible, Book a Trial Stay
We want to be absolutely sure that we are a good fit for your pet before an extended stay. A trial stay consists of a full day of daycare so we make sure your pet is well suited for boarding.
Step 3
Set Your Pet Up for Success
On the day your pet's boarding appointment is to begin, there are a few things you can do to help reduce any stress your pet may feel.
Spend some extra time with your pet before dropping them off, and make sure they get in some vigorous exercise (if possible) so that they are feeling relaxed. When you arrive at our facility, remain calm, cheerful and confident during the separation.
FAQs About Pet Boarding with Germantown
Read the answers to our most frequently asked questions about pet boarding at Germantown Animal Hospital in Cordova.