Dr. Susannah Mays is a veterinarian in Cordova at Germantown Parkway Animal Hospital.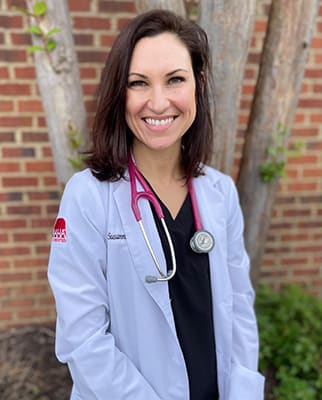 Dr. Susannah Mays
Dr. Susannah Mays is originally from Greenville, Mississippi. She earned her bachelor's degree in biology at Ole Miss in 2008, and then went on to earn her Doctor of Veterinary Medicine in 2014 at Mississippi State University's College of Veterinary Medicine. Following veterinary school, she completed a rotating internship in small animal medicine and surgery at Memphis Veterinary Specialists, where she remained as an emergency clinician and hospitalist. In 2022, Dr. Mays joined Germantown Parkway Animal Hospital.
In her free time, Dr. Mays enjoys playing tennis and attending Grizzlies games, as well as spending time with her husband and two children. She has a yellow Lab named Lady and a cat named Paula Deen.
I enjoy what I do because no two days, hours, or minutes are the same. Plus, I have the opportunity to serve the community and their beloved pets.