You see your dog every day, and so it can be hard to notice if they start gaining weight. Here are the signs that your dog may be overweight, and what you can do.
How can I tell if my dog is overweight?
The first thing to do if you suspect your dog is overweight is to visit your vet. Your vet will examine and weigh your pet, and let you know if they are overweight based on their size and breed standards.
That being said, there are some signs that will give you a good indication of whether or not your dog is overweight.
When a dog is at a healthy weight, you should be able to feel the ribs without a thick layer of fat over them. Your dog's chest should be wider than the abdomen, and there will be a noticeable tuck-up from chest to stomach.
Overweight dogs will generally have no discernible waist and no distinction between the chest and stomach. Overweight dogs may pant when walking, walk a bit slower than before, or take more naps than usual.
How can I help my dog lose weight?
If your vet determines that your dog is overweight, they will prescribe a diet and exercise regimen to help get them back on track. Here are a few things you can do to help your dog lose weight.
Regular Exercise
Keep to a strict exercise schedule for your dogs, including twice daily walks and playtime outside. 
Diet & Feeding
Your vet can prescribe a low calorie diet for your pet. Make sure your pet eats at the same time every day, and that you measure out the portions carefully based on the ideal weight for their breed (or size).
Check In
Bring your dog to the vet regularly to be weighed. This will allow you to monitor your progress, and will let the vet know if further dietary adjustments or testing are needed.
Note: The advice provided in this post is intended for informational purposes and does not constitute medical advice regarding pets. For an accurate diagnosis of your pet's condition, please make an appointment with your vet.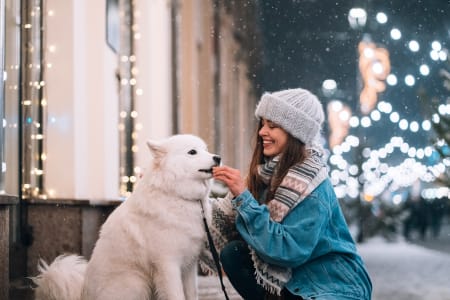 Looking for a vet in Cordova and greater Memphis area?
We're always accepting new patients, so contact our veterinary hospital today to book your pet's first appointment.