What should I do if my dog has been poisoned?
Stay calm and make sure the source of the poison is out of your dog's reach. Then get your dog to the vet as soon as possible.
Signs & Symptoms of Poisoning in Dogs
The following symptoms may indicate that your dog has been poisoned:
Agitation
Tremors
Convulsions
Nausea and/or vomiting
Seizures
Heart problems
Diarrhoea
Kidney failure
Excessive bruising or bleeding
Nosebleeds
Unsteady on feet
Abnormal heart beat
Drooling
Oral irritation
Pale gums
Inability to urinate
What substances are poisonous to dogs?
Most of the poisoning cases our Cordova vets see are the result of dogs getting into substances around the house that are not good for them. Certain foods, medications or household substances that are safe for humans can be dangerous if ingested by a dog.
The following substances are the most common dog poisons we see at Germantown Parkway Animal Hospital.
Medications
Over-the-counter medications like Tylenol, ibuprofen, Advil and Aleve, as well as herbal and nutraceutical products, can be poisonous to dogs. Prescription medications that are beneficial to humans can also be highly poisonous when ingested by dogs.
People Food
Animals have different metabolisms than people. Some foods, such as chocolate, onions and garlic, are perfectly safe for people but dangerous, and sometimes fatal, for dogs.
Veterinary Products
Medications like painkillers, de-wormers, and flea/tick treatments can be poisonous to dogs if consumed or used incorrectly.
Household Products
Household cleaning products are a leading cause of pet poisoning, resulting in stomach and respiratory tract problems. Chemicals in antifreeze, paint thinner, and chemicals for pools also can act as dog poison.
Rodenticides & Insecticides
Rat poison and insecticides can be as dangerous for your dog as the creatures they are intended for.
Plants
Some of the more toxic plants to dogs include azaleas, rhododendrons, tulips, daffodils, and sago palms. 
Lawn & Garden Products
Products for your lawn and garden may be poisonous to pets that ingest them.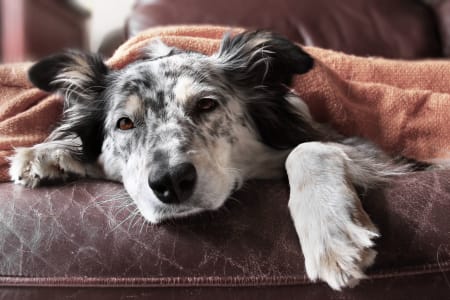 Looking for a vet in Cordova and greater Memphis area?
We're always accepting new patients, so contact our veterinary hospital today to book your pet's first appointment.
Related Articles View All
 Weight gain is common in cats, especially for older cats with slower metabolism, or those that are kept indoors. Here are some signs that your cat may be overweight, and what you can do.
Fleas can make your pet miserable! If left untreated, fleas can lead to infection and possibly cause more serious diseases.  Here's a little from our Memphis vets on how to spot the signs of flea infestations so that you can detect them early and keep your pet healthy.
Ticks are a danger to people and pets because a number of serious diseases are spread by this external parasite. Below, our Memphis vets explain what to look for, and how to keep ticks away from your family and your pets.